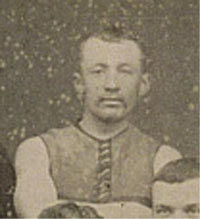 Victorian Football Association
Carlton Vice Captain: 1889.
Committee: 1893.
V.F.A. Delegate. 1891-
Career: 1879-1884 1886-1889.
W. H. "Bill" Moloney.
Bill shone in the centre and at half back, he was nicknamed "Carbine" after the famous race horse because of his great speed.
Some confusion as to spelling of surname, some records say Moloney others Maloney.
1879
September 27
Carlton were to play Melbourne at Prince's Oval.
Melbourne included in their side a Geelong player named Sandilands.
Carlton also had a Geelong player Wilson, and also Moloney from the Carlton Second Twenty.
Both clubs objected, and Melbourne under protest was willing to play if Sandilands was allowed to take the field.
Melbourne would also allow Moloney to play for the Blues, but not Wilson.
Both clubs argued the point, an agreement could not be arranged, and the match was called off.
1879
October 04
Carlton played West Melbourne at Prince's Oval.
Moloney was named in the Carlton squad of 22.
He probably was in the playing 20 as the last two players named were not in alphabetical order and were generally emergencies.
This would have been his debut for the Blues in the last game of 1879.
One of the best players for the
1882
season.
(Centenary Souvenir of Carlton Football club p16)
1883
. Was suspended along with
Harry Wilson
after a rough match against Essendon July 21.
The Essendon player Hughes was also found guilty, but was not penalised.
1887
"Maloney another wing player, is the fastest man of the team, and is in fact a veritable flyer."
1888
Moloney played in the Carlton vs England match at the M.C.G. June 23.
Bill Maloney listed as one of Carlton's better players for
1889
.
Retired at the end of the
1889
season.
The Carlton Story, H.Buggy and H.Bell p52,54,67)
1891
The Argus reports that W.H.Moloney was presented with an illuminated address for long service to the club, at the Carlton general meeting held Wednesday 25th. March.
1891
October 3
W. Moloney became the Carlton delegate to the V.F.A. to replace
Theophilis S. Marshall
who resigned due to the many late night meetings.

Left: Image: (Trove) Melbourne Punch Sept 29 p15 1887
Right: Above sketch: Melbourne Punch May 30 1889
Links
Articles:
1888: Carlton v England
Blueseum:
Pre VFL Players
|
Pre VFL Vice Captains