Author: From the Carlton Football Club - Published Thu 25 of Sep, 2008 17:40 AEST - (5760 Reads)
Former Carlton centre half-forward flanker
Maxwell Robert "Max" Wenn
has died at Rosebud Hospital. He was 82.
Wenn, the 666th man to represent the Blues at senior League level, was a late starter, completing his debut at the age of 26 years 217 days. That
came in the opening round of the '53 season against Footscray at Princes Park
, in a match umpired by Harry Beitzel. The home team went down by five points, but Wenn managed a goal.
Wenn booted 26.25 from his 15 senior appearances in '53 to finish third on the club's goalkicking table behind Jack Howell with 28 and Jack Spencer with 32. He also finished
a creditable fifth in the Robert Reynolds Memorial Trophy
for the best and fairest player behind
Vin English
,
Jack Mills
,
Jack Howell
and the eventual winner, captain
Ken Hands
.
To round out the year, Wenn was runner-up in the trophy for "Best First-Season Player" to
John James
, later the club's second Brownlow Medallist.
The following season, 1954, would prove disastrous for player and club. Wenn managed 12.13 from his ten senior matches, but broke his
ankle against South Melbourne at Princes Park in Round 12, 1954
.
It would be his 26th and last appearance in the No.18 Carlton guernsey.
Wenn was one of a number of on-field casualties through the '54 season, with
Ron Robertson
,
Laurie Kerr
,
Jack Howell
,
Vin English
and
Keith Warburton
all breaking down. As a contributor to the club's annual report lamented: "The speed-crazy pattern of today's games makes some injuries inevitable but no club – especially one still teambuilding – could hope to cope with the abnormal crop suffered by Carlton".
Originally hailing from Berwick,
Wenn
was recruited to Carlton from Oakleigh, the club his son David would later represent with distinction as a JJ Liston Medallist and premiership player in the glory years under Bob Johnson (As an interesting side note, David shared the Liston will Bill Swan (ex Port Melbourne and ex Carlton under 19 footballer plus father of Collingwood star Dane Swan) and Geoff Austin).
Former Carlton footballer
Max Howell
remembered that Wenn took some convincing to make the pilgrimage to Princes Park.
"I worked for the then Carlton President
KG Luke
in those days and they used to say to me 'See if you can get 'Wenny' to Carlton'. He didn't want to go, but he originally came over because he wanted to play league football, Howell said.
Alex Boyle
, who followed Wenn to Carlton from Oakleigh in '53, concurred.
"I stood out of football to get to Carlton, but Max was quite content to stay, mainly because he was a butcher by profession and he was going with Dave Whiteside's daughter, Margaret at the time . . . in the end, he decided to have a crack at it," Boyle said.
"
Laurie Kerr
used to say: 'Always remember that there's life after football' because in those days when you finished football that was it. Max got married and that had a lot to do with his decision to finish up because he and his wife ran a stud farm just out of Cranbourne and that's where Better Boy, the No.1 sire in Australia, is buried."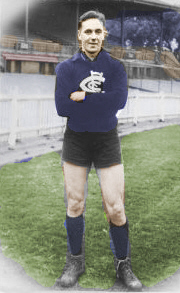 Boyle unhesitatingly declared Wenn "a brilliant sportsman".
"As a footballer he had great pace, which was a big thing in those days, and he was an accurate kick," Boyle said.
"He played at centre half-forward and he dominated the position. When he played at Oakleigh thousands flocked to the game to see him play because he was such a drawcard.
"I remember a match against Collingwood at Victoria Park and he was going well, until Bobby Rose collected him with a good right and dropped him. Bobby was a boxer and 'Wenny' was carried off.
"He was also a great cricketer. He played cricket for Berwick until he was 60. He was a spinner and a very good bat."
Wenn, who spent his final years in Rye, died after an illness lasting 18 months. Until the end he followed the old dark Navy Blues, for as Boyle said: "The Carlton days were happy days for him and he had a lot of time for them".
Wenn is survived by his wife Margaret, sons David and Robert, daughter Janet and 11 grandchildren.
Links
Blueseum:
Wenn's Blueseum Biography
|
A summary of Wenn's playing career in statistics
|
Wenn's Blueseum Image Gallery