Author: Warren Tapner - Published Wed 18 of Jun, 2008 08:53 AEST - (8540 Reads)
First published: June 2008




On Saturday, September 27 of this year, the biggest sporting event on the calendar; the 2008 AFL Grand Final, will once again pack the MCG and light up television screens across the length and breadth of the Australian continent.
On the eve of that landmark day in Australian sport, the Carlton Football Club will celebrate the 100th anniversary of a cherished moment in our long and successful history – the day the Old Dark Navy Blues completed our first (and so far, only) hat-trick of Premierships. Coming after our victories over Fitzroy in 1906 (by 49 points) and South Melbourne in 1907 (by 5 points) Carlton's 9-point win over Essendon in 1908 established a tradition of excellence that few other clubs can match.
Eleven young men represented the Blues in all three of those historic Premiership victories. Here, beginning with the coach who welded them into the Victorian Football League's first power team, the Blueseum proudly profiles Carlton's Hat-trick Heroes.
1. JACK WORRALL
One of Fitzroy's great players in the early years of the Victorian Football Association, Worrall captained the Maroons, and was named Champion of the Colony in 1887 and 1890. He was also an outstanding cricketer for the Carlton Cricket Club, representing his country 11 times in test matches.
In 1897, as Fitzroy's delegate, he played a leading role in the formation of the Victorian Football League, and in 1902, accepted the position of secretary of the Carlton Football Club - on the proviso that he alone would be responsible for all aspects of team recruitment, selection and preparation. Carlton agreed, and Worrall became the game's first full-time coach.
His feat of lifting the Blues from second-last in 1901, to triple Premiership glory five years later, was testament to his single-minded determination to get the best out of all those around him. But his blunt manner, and refusal to accept mediocrity of any kind did not win him a wide circle of friends.
In April, 1910, Worrall was voted out of office amid a player revolt over match payments and ever-tougher training. Many within and without the Carlton Football Club were convinced that the Blues would regret discarding their saviour, and they were soon proved right when he took the reins at Essendon, and steered the Same Olds to two more Premierships in 1911 and 1912.
2. JIM FLYNN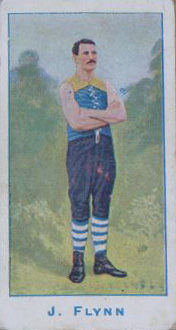 Flynn was one of the first opposition players targeted by Worrall, who saw something special in the durable ruckman-forward who had languished at Geelong for seven seasons without playing finals football. Like many of Worrall's hunches, this one paid off handsomely, too.
Flynn swapped clubs in 1903, and such was his impact, he was appointed captain of the Blues the following year. He led Carlton's rucks in the 1906 flag triumph, before switching to centre half-back for the 1907 and '08 victories. He relinquished the captaincy to 'Pompey' Elliott in 1908, and was 37 years old when he drank from the Premiership cup for the third year in a row.
He retired after that momentous day, but sensationally returned to the field one last time for his beloved Blues in 1910, when, shortly before our semi-final clash with South Melbourne, Carlton suspended three players who were suspected of accepting bribes.
3. LES BECK
A youngster from Maffra who played just his sixth senior game when he was a late inclusion in the 1906 Grand Final side, Les Beck quickly matured into a gifted, instinctive defender. Alongside Doug Gillespie and Norman Clark, Beck completed a formidable last line for the Blues in the 1906 and '07 flag wins, and proved a more than capable stand-in at full-back in 1908 when Gillespie was injured in the second semi final.
4. GEORGE BRUCE
A brilliant, elusive winger from West Adelaide, Bruce came to Carlton in 1903 to form one of the greatest of all Carlton centre lines. Alongside champion centreman Rod McGregor, and with the lightning-quick Ted Kennedy on the other wing, Bruce provided the springboard for Carlton's attack for a decade.
5. NORMAN CLARK
Highly skilled, physically imposing, and with the speed of a professional sprinter, Norman Clark was one Carlton's brightest stars in the first decade of the 20th century. He played in defence in each of Carlton's first three flag wins, and later led the player revolt that ousted Jack Worrall as coach. He retired from the field in 1912 to take on the role of coach himself, and achieved the remarkable feat of back to back Premierships in 1914 and 1915.
6. CHARLIE HAMMOND
Tireless and big-hearted, follower-defender Charlie Hammond was influential in all of Carlton's first five VFL Premierships. He formed a powerful ruck combination with George 'Mallee' Johnson in the 1907 and 1908 flag deciders, and was widely seen as best on ground against Essendon in '08.
When Jack Worrall was sacked from Princes Park in 1910, Hammond walked out in sympathy, and resumed playing with his original club; Northcote, in the VFA.
But four years later he was convinced to return, and helped guide the young Blues to Premiership glory again in 1914 and 1915.
7. FRED JINKS
Jack Worrall was a believer in the football truism that a good big man will always beat a good small man - which explains why Carlton's coach was so pleased when he lured the big follower-forward Fred Jinks to Carlton from VFA club Footscray.
Tough and versatile, Jinks was a solid performer in all three of Carlton's flag wins, although he too, walked out of Princes Park when Worrall was sacked.
8. GEORGE "MALLEE" JOHNSON
When Jack Worrall first saw 'Mallee' Johnson in action for VFA front-runners Richmond, he is reported as saying that the big bloke had talent, but probably wouldn't make it at VFL level because he lacked pace. For once, Worrall got it wrong.
Johnson's courage, endurance and skill overcame any shortcomings, and he was a star at centre half-back in Carlton's 1906 Premiership triumph. In 1907 he was switched into the ruck alongside Charlie Hammond, and drove the Blues to two more flags.
Like his close mate Hammond, 'Mallee' left Carlton in controversy when Worrall was sacked. He crossed to North Melbourne, and won another Premiership when he led Shinboners to victory over Brunswick in the 1910 VFA decider.
9. TED KENNEDY
Another Worrall import who became a Carlton star, Edwin (Ted) Kennedy was a lightning quick, flashy winger who played in the Essendon team beaten by Collingwood in the 1902 VFL Grand Final. He was also was among a number of players criticised for their performance afterward. No doubt Worrall used those events as a spur, and at Carlton, Kennedy was a sensation.
With Rod McGregor and George Bruce, Kennedy formed one of the all-time great centrelines, and only an unfortunate injury to McGregor in 1907 prevented the trio from celebrating Carlton's hat-trick of flags together.
10. ALEX 'BONGO' LANG
A brilliant, dominant rover in each of Carlton's first three flags, 'Bongo' Lang was later suspended for five seasons when he was found guilty of accepting a bribe to 'play dead' in the 1910 semi-final against South Melbourne. He served out his long sentence, and returned to the field for the Blues in 1916.
11. BILLY PAYNE
Carlton's hero in the 1906 Grand Final, Billy Payne was recruited by Jack Worrall from Footscray, and become one of the first in a long line of champion half-backs for the Blues. Among Carlton's best in all three flag wins, Payne went on to play 127 games, and was the first to wear our guernsey number 2.
12. GEORGE TOPPING
Another of the many unique characters from the early years of the Victorian Football League, George Topping was a mercurial small forward who had a long, but often-interrupted career with Carlton from 1902 to 1916.
Although slightly-built, he was capable of playing in a key attacking post, where his agility and goal sense made him a dangerous proposition. After being a good contributor in each of Carlton's first three Premierships, he was reported for striking in 1910 and given the harsh penalty of 35 matches. He returned to the field briefly in 1912, then announced his retirement - to take up umpiring!
He officiated in three VFA games, before changing his mind again, and making a comeback to senior football at the age of 32.