Author: The Blueseum Writing Crew - Published Wed 28 of Nov, 2012 14:15 AEDT - (10123 Reads)
First published: July 2009

When
Brendan Fevola
snagged his 8th, and final, goal in our wonderful victory over the Brisbane Lions in
Round 11, 2009
, he did abit more than just nail the win from our perspective. By bringing up his 525th goal in his 175th game,
Fevola
also managed to hit a level of goal-kicking very few Blues have ever been able to manage - the magical three goals per game on average mark. Whilst we have a history rich in many things, and including goal-kickers, only 10 Blues have managed this feat by the end of the careers (including Fevola, who finished up in 2009). But as we will see, career longevity and a high average goal count are two very different things entirely.
In the below table, we are proud to list all 10 Blues who have managed to achieve the feat of a career goal average of 3 goals per game.
As you can plainly see, our list of top goalkickers by average in each game is very different to our Top 10 Goalkickers of all time. There's no sign of some of our greatest names -
Jesaulenko
,
Sticks
or even
Horrie Clover
. In fact only Vallence and Fevola are in both lists.
Of great surprise is the omission of our top goalkicker ever,
Stephen Kernahan
who misses out with an average of 2.94 goals per game. Many of you will highlight that for much of his career 'Sticks' played away from the goalsquare - but these tables aren't about debated the quality of player. After all,
Jezza
isnt in the above list and would have to rank in our Top 3 players of all time.
The 9 players in the list include some single-gamers, some legends, and also some promising forwards lost to us before their time. The top goalkicker by game is
Noel O'Brien
, from the latter category. O'Brien's 3.69 goals per match stands well clear at the top of our table, and came after a credible 32 games in Navy Blue. Although he would come second in the League Leading Goal-kicker Award, he would manage 73 goals in his second full year of senior football at an average of about 4 1/2 per game. Unfortunately, this would be his last year of football, suffering from a career ending injury in the following pre-season. What a shocking loss to football - based on these numbers he could have been one of the greats!
Added to that are some of our greatest prospects, who didnt quite manage to make long careers out of some brilliant starts. Ralph, Allen and Ditchburn come to mind in this category, and at the other end of the scale Collingwood great
Peter McKenna
finished his career on something of a high with a nice average from 1 final season. Then you have two single gamers -
Gilmore
and
Flynn
who each managed 3 goals in their only game. How the hell didn't they warrant a follow up match!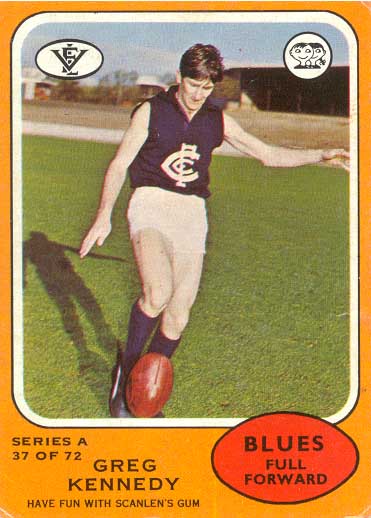 A small number of Blues also managed near the 3 goal barrier, and in honour of their efforts the Blueseum has provided a summary of all players averaging 2.5 or more:
Again, this list contains not only some Legends, including 'Sticks' and Carlton's first
John Coleman Medallist
in
Tom Carroll
, but some few-gamers and some Blues lost to us well before their time. Both
Kennedy
and
Kekovich
appeared to have the world at their feet, but injury struck them down, and then we have Miller, Minton-Connell and Schmidt who moved on relatively early in their careers.
The above tables demonstrate that career longevity as a forward is indeed difficult; some great names have come and gone but might not ever be reflected in our 'Top Goalkicker' lists. All such Blues have played a part in the history of the Carlton Football Club, and our potent Full Forward
Brendan Fevola
finished his time well inside the Top 10 for the Club. Incidentally, Fevola was gone in the same year he achieved this feat, being
traded
to Brisbane!
Links
Fevola
|
Vallence