Victorian Football Association
DOB: 1865
DOD: 25 November 1909
Awards: Best Carlton player of 1888
Games: 108 - 109
Goals: 23
Career: 1887 - 1892
William "Wally" McKechnie
McKechnie was recruited from South Melbourne Juniors.
He was refused a place on South's senior team list, and he then joined Carlton in 1887.
1887
CFC Annual report, McKechnie scored 4 goals during the season.
Appears in 1887 Carlton football Club team photo.
1887
"McKechnie is a young player, this being his first year as a senior, but he has already proved that at the present time he has few equals in the sister colony. He formerly played with South Melbourne Juniors, but being refused a place in South's senior team he joined the Carltons, who have considerably profited by the South Melbourne's committee's want of judgment."
1889
CFC Annual Report, McKechnie scored 6 goals during the 1887 season.
At this AGM a prize for the best First Twenty player of 1887 was made available by a Mr. McWhinney.
After a ballot by the players, Wally McKechnie was voted as the best Carlton player of season 1887.
Appears in 1888 Carlton football Club team photo.
1889
CFC Annual Report, McKechnie scored 2 goals during the season.
1890
CFC Annual Report, McKechnie scored 4 goals during the season.
1890
Blueseum believes Wally McKechnie appears in the 1890 Carlton team photo taken in Sydney.
He is named on the photo as McKenzie (front row, second from the right) but we believe that this may be a mistake by the printer.
The photo taken in Sydney is very similar to the photo of Wally that appears on top left of this page.
Wally McKechnie was named on the passenger list for the S.S. Arawatta, and he played in the exhibition games in Sydney. His name appears in the Carlton line up published in the Sydney Morning Herald.
1891
August 07 Friday
The Evening Standard included an image of McKechnie and had a brief write up.
"The subject of the above illustration started his long and successful career with the South Melbourne Juniors as far back as 1880, and after doing yeoman service in their ranks for six successive seasons threw his lot in with the Carlton club.
Whilst battling under the dark blue colours, since '86, he has won a great name, and stamped himself amongst the first flight of followers, his little marking in the thick of the ruck being a special feature. He plays the game for the love of it, and although a resident of South Melbourne since boyhood he has refused to play for any other club than the one in which he first sought senior fame."
McKechnie is listed as being a forward for the Blues in and around the early
1890
's.
Listed as one of the better players for the Blues in 1888, 1889 and 1890.
1892
Carlton lost a valued and proven player in Wally McKechnie, who was severely injured during the season.
(The Carlton Story, H.Buggy and H.Bell p64,67, 71)
1893
April 11
"Lovers of the game will be pleased to hear that a benefit concert is about to be tendered to Wally McKechnie, a sterling player of the dark blues.
He met with a serious accident by a brick falling on his head. It is probable that for some time yet he will be unable to resume his occupation. The concert will be held in the Hibernian Hall, Swanston street, next Friday evening. Several of the Exhibition concerts' vocalists have signified their intention of contributing, and a good house should be the result."
(Sportsman April 11 p6)
1893
April 18
Carlton footballer W. McKechnie suffered an accident at his work place and will not be able to return to work for a few months. A music concert was organised and held at Hibernian Hall on Friday April 14 which raised £50 for Wally.
(The Sportsman p3)
1909
Saturday 27 November
The Age (p7) carried the Death Notice of Wally McKechnie who passed away on 25th November at his brother's residence 21 Evans Street Port Melbourne aged 44 years.
The notice said his name was William McKechnie late of the Carlton Football Club.
On Friday 26th a Death Notice was also placed in The Age and it said Willie McKechnie a misprint?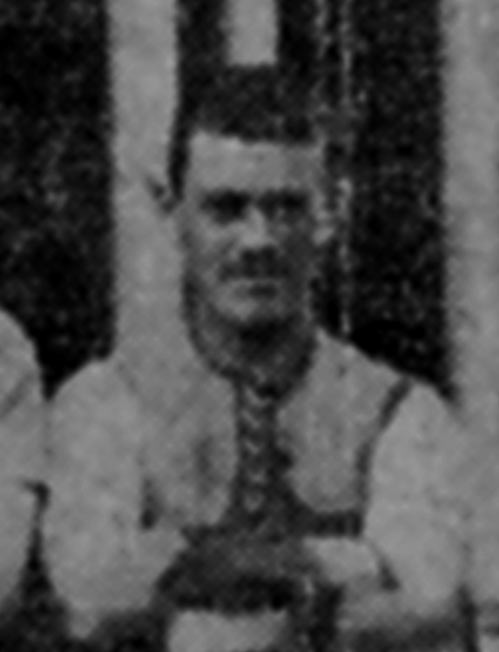 LINKS
Blueseum:
Pre VFL Players