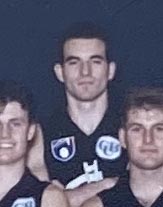 Reserves Games: 6
Reserves Goals: 5
Height:
Weight:
Guernsey No. 59 (1989) & 54 (1991).
DOB: 23rd February, 1972.
Viv Romito played U/19's from 1988 to 1991, and later Reserve Grade Football for Carlton from 1989 to 1991. He was good mates with
Anthony Koutoufides
and played a lot of junior football and athletics with Kouta.
Romito was recruited from Lalor.
He did not manage a Senior game for Carlton.