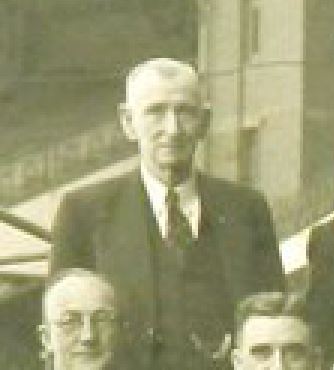 Born 1st. August 1879, Sandhurst. (Bendigo)
Married 1905 Elsie Elizabeth Ann Jones
Died 5th. June 1959.  Aged 79.
Originally a bootmaker for Ezywalkin, said to have made their first shoe when the company began in 1910.
Worked as bootstudder for the Melbourne Football Club for many years and can be seen in multiple team photos (including the photo to the left with the 1940 Melbourne premiership team).
Thank you to his family for providing the image of his medallion and information, his grandchildren have vivid memories of Tom making all the studs/stops in ''his shed'' back yard of the home in Station Street, Fairfield. His grandsons loved to be with him and are still amazed at his skill and ability to hold many tacks/nails in his mouth.
From the 1944 Carlton Football Club Annual Report:
"Owing to pressure of business, Mr Harold Vine, Boot-studder since 1938, was forced to give up his position, and Mr Tom Rule, for many years studder with the Melbourne Club, and recognised as one of the best men at the work, filled the vacancy to the complete satisfaction of you committee and the players. Tom, by his willingness, his enthusiasm and his expert knowledge certainly did a marvellous job."
From the 1945 Carlton Football Club Annual Report:
"The importance of having a team properly 'shod' is, perhaps, not fully understood by many, but the players know the big part a competent studder plays, and in Mr. Tom Rule we believe we posess the 'Prince' of boot studders."
From the 1946 Carlton Football Club Annual Report:
"Mr. Tom Rule, who had acted as Boot-Studder for two years, and who by his expert knowledge of ground conditions has assisted to win 14 premierships including our own of 1945, temporarily left the State at the beginning of the season, but he also felt that the time to retire had arrived so he resigned his position."
Below is the hammer Tom used in his career as a bootstudder, this hammer was used for the boots of Bob Chitty (and the rest of the team) in the Bloodbath Grand Final, one of the most famous finals in the history of the game.