| | | | | | | | | |
| --- | --- | --- | --- | --- | --- | --- | --- | --- |
| Carlton | 0.1 | 1 | 7.5 | 47 | 9.11 | 65 | 14.15 | 99 |
| Essendon | 3.8 | 26 | 6.12 | 48 | 10.14 | 74 | 11.17 | 83 |

Venue: MCG
Date: Saturday 13 September, 1947
Result: Win by 16 Points
Umpire: F.Spokes
Crowd: 75,475
Goalkickers: H.Turner 4, F.Davies 3, J.Baird 3, K.Hands 2, F.Stafford 1, J.Mooring 1.
Best: F.Davies, O.Grieve, J.Bennett, J.Howell, F.Stafford, H.Turner, B.Deacon.
Reports: Nil
Injuries (Carl): B.Deacon (thigh muscle), J.Mooring (broken hand)
Injuries (Ess): Leehane (broken collarbone), Harper (concussion)
---
Game Review
Essendon started the game kicking with the benefit of a strong wind, but were wasteful kicking 3 goals 8 to one behind. Brownlow Medallist
Bert Deacon
and
Ollie Grieve
at fullback limited the damage for the Blues. With Carlton dominating in the ruck, the Blues kicked 7 goals to 3 in the second quarter to setup a close game by the half-time break.
After an injury to Bert Deacon in the third term, it seemed as if the Blues might be in trouble, but
Ken Hands
started to dominate in the forward line. Mistakes by Essendon made it easier for Carlton in the last quarter and three quick goals, with Howell getting one and Hands two. The Blues had established a winning lead and went on to kick 5 goals to 1 in the last quarter to take out the match.
This photo is often mistaken as Fred Stafford's famous left foot snap that put the Blues in a winning position in the dying seconds of the
Grand Final
Image: Trove; Argus September 15 p38
The Cartoonist's View...
Match Preview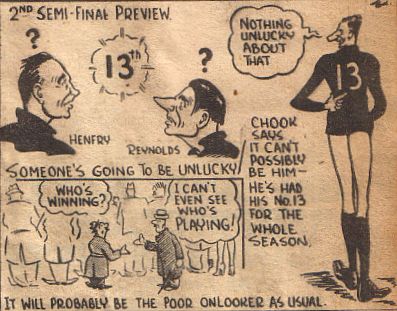 After The Game

Team
---
Round 19
|
Grand Final