| | | | | | | | | |
| --- | --- | --- | --- | --- | --- | --- | --- | --- |
| Carlton | 4.3 | 27 | 6.5 | 41 | 10.11 | 71 | 19.16 | 130 |
| Collingwood | 5.3 | 33 | 12.8 | 80 | 14.10 | 94 | 17.12 | 114 |

Venue:
Victoria Park
Date:
Saturday 21 May 1938
Result:
Win by 16 points
Crowd:
38,000
Goalkickers:
H.Vallence 8, M.Price 4, R.Cooper 3, J.Hale 2, G.Crisp 1, K.Baxter 1.
Reports:
Umpire:
Batt
Injuries:
Wrout (leg) replaced by G. Crisp during first quarter.
Best:
Game Review
A clash of the heavyweights who were destined to meet in the Grand Final.
Collingwood spearhead Ron Todd had been in great touch, and began the match having booted 27 goals from his previous four games. He trumped his earlier performances with 11 on this day; his nine in the first half forging a daunting 38 point advantage for the Woodsmen.
Still trailling by four goals at the last break, and playing at the Victoria Park dungheap, things didn't look rosy for the Blues - but a magnificent last quarter of 9.5 to Collingwood's 3.2 won the day.
'Soapy' Vallence's
8 goals went a long way towards cancelling out Todd's brilliant effort.
As the teams left the field, words were exchanged between Collingwood captain Harry Collier, and Carlton's dynamic, pint-sized wingman
Jack Carney
. Enraged, Collier punched Carney in the face. As a result, a brawl erupted involving players, trainers and the crowd, requiring police intervention to prevent a riot. He was reported, and subsequently suspended for the rest of the year. On Grand Final day, Collier's influence was sorely missed by Collingwood, who were beaten by 15 points.
Half Time Moves
Frank Gill, whose man Todd had kicked 9.2 to half time was moved to Jim Park's back pocket position. Jim Park went onto Todd and limited him to 2.3 goals for the remainder of the match. Crisp went into the centre and immediately "became the pivot for all Carlton's goal bringing drives." Eric Huxtable went from the centre to his usual spot at half back flank and improved 100%. Brighton Diggins one of Carlton's best, doubled his output. "... bustling Jack Hale, nothing if not determined, gave far more punishment than he received."
Scorers
Vallence 8.4, Price 4.3, Cooper 3.2, Hale 2.1, Baxter 1.1, G. Crisp 1.0, Green 0.1, Wrout 0.1, C. Crisp 0.1, Diggins 0.1, McElroy 0.1
Best
Cooper, Diggins, Park, Crisp, Vallence, McIntyre, Chitty, Hale, Price, Baxter
The Age;
"Ron Cooper, classiest rover in the League when at his top, gave his best game for seasons. Diggins was almost his equal for effectiveness, rucking practically three full quarters. Park before he smothered Todd in the last half, had given wonderfull service in the back pocket. Crisp definitely swung the game with his perfect kicking, handling, and position play. Vallence, who kicked eight goals his highest bag for the season - demonstrated that the he is far from finished as a forward."
At the end of this round Carlton were in 1st spot on the ladder with a percentage of 118.7.
Footnote
The gate takings of £1173 was record for Victoria Park, Carlton's share was £300.
Team
B:
2 Don McIntyre
21 Frank Gill
26 Jim Park
HB:
6 Bob Chitty
10 Jim Francis (vc)
11 Jack Hale
C:
7 Jack Carney
9 Eric Huxtable
32 Bob Green
HF:
1 Frank Anderson
28 Jack Wrout
12 Creswell 'Mickey' Crisp
F:
4 Ken Baxter
22 Harry Vallence
30 Mick Price
Ruck:
5 Brighton Diggins (cc)
15 Jack McElroy
19 Ron Cooper
19th Man:
8 Gordon Crisp
Coach:
Brighton Diggins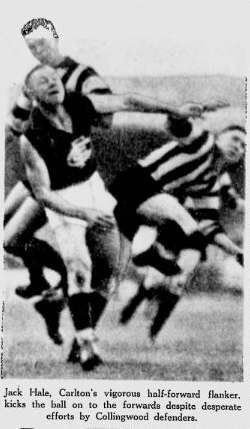 Photo: Age May 23
Milestones
Score Records:
This was the last of 10 consecutive wins for Carlton, one of the best winning streaks in our history
---
Round 4
|
Round 6