| | | | | | | | | |
| --- | --- | --- | --- | --- | --- | --- | --- | --- |
| Carlton | 0.2 | 2 | 6.3 | 39 | 6.6 | 42 | 7.9 | 51 |
| Richmond | 3.4 | 22 | 3.4 | 22 | 5.7 | 37 | 6.10 | 46 |

Venue: Punt Road Oval
Date: Saturday July 14, 1917
Result: Win by 5 points
Umpire: Delaney
Crowd:
Goalkickers: H.Haughton 2, V.Valentine 2, D.Crone 1, V.Gardiner 1, J.Shortill 1.
Best: H.Haughton, W.Dunn, J.Shortill, V.Valentine, P.O'Brien, E.Carter
Reports: Nil
Injuries: Nil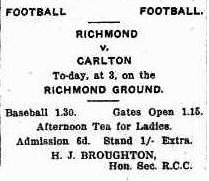 Game Review
Carlton registered their 5th win from 10 rounds (plus a draw) over bottom team Richmond to move into second spot on the ladder.
"Aided by the wind, Richmond players were soon busy in attacks upon Carlton's goal. A nice appreciation of direction and distance enabled the forwards to score three sixers, Rudd, Taylor, and Maybury taking the credit for these productive kicks. The opening quarter was a time of considerable trial for the Carltonians, but they twice managed to beat up against the breeze, only to notch minor points.
In the second round the Blues soon got to scoring business. Shortell took to the air and came down with a mark, which he used to open his team's goal account. Opportunities were won for Crowe
(Crone)
and Valentine, the result being a score at level chalks - 22 points apiece. Richmond checked the figuring for a while, and looked like scoring in spite of the breeze. Their efforts were ultimately worn down by the Carltonians, who made two more full-prized shots, and reached half time with a lead of 3.1
In the third bout Richmond held back all dangerous opposition, and resumed scoring through the instrumentality of Fehring. Some chances were squandered, but presently Alessio gathered a nice goal, but the Carlton tally could not be overtaken.
When, therefore, the final run was commenced with the Blues having both the score and the wind in their favor, it seemed as if Richmond's chance was quite gone. The men in Black and Gold were still out for success, however, and put in many great rushes, to the very active employment of the Carlton defenders. When Shortell, in trying to drive his side to a safe lead, hit the post, there was rejoicing in Richmond circles. This cooled off as Valentine urged the ball between the posts, but interest was re-awakened by a goal credited to Taylor, of Richmond. Another sixer would have brought victory to Punt road, but it was not forthcoming, and play ceased with general honors easy, although the scoring favored Carlton by 51 to 46.
In the winning colors, Shortell, Haughton, Dunn, McGregor, O'Brien, and Carter were great performers."
(Weekly Times July 21 p22)
At the end of this round Carlton were in 2nd spot on the ladder with a percentage of 105.2.
Footnote:
Ern Carter received the news at half time that his brother had been killed in action.
(Winner July 18 p7)
Team
B:
25 Frank Martin
8 Mort Keily
30 Dave Crone
HB:
16 Darcy Lear
10 Paddy O'Brien
9 Ted Brown
C:
21 William Dunn
11 Rod McGregor (acting capt.)
12 Charlie Canet
HF:
7 Charlie Fisher
14 Ern Carter
2 Percy Daykin
F:
23 Joe Shortill
13 Vin Gardiner
28 Lyle Downs
Ruck:
19 Charlie Hammond
5 Harry Haughton
4 Viv Valentine
Coach:
Norman Clark
---
Round 9
|
Round 11