Reserves Games:
10
Reserves Goals:
4
Guernsey No.:
6
(1980),
40
(1984),
50
(1983 - 1984),
52
(1982) and
54
(1981 - 1982)
Height: 5'10" (179cm)
Weight: 12.2 (77kg)
DOB: 30th July, 1973.
Malcolm Mottram was a very talented junior who was earmarked as a young kid with a bright future for the Blues after being recruited from VCFL Club Maryborough. He seemed to be on the Carlton list for 'years', as an outstanding junior he was a regular state representative, including the 1980 Caltex Victorian Championships and Teal Cup (refer to articles below from the 1980 and 1981 Seasons).
Mottram played with the Blues U/19's as well as Reserve Grade football with the Blues from 1982 to 1984.
Mottram also toured Ireland with a Victorian Schoolboys team in 1981 that was being coached by Nth Melbourne legend John Dugdale. This team had 10 players that went onto play senior football at various VFL clubs, they were
Shane Robertson
(Carl), Gary Pert (Fitz/Coll), Steve Hocking (Geel), Tim Darcy (Geel), Tony Furey (Nth), Joe Rugolo (Melb), Russell Dickson (Melb), Michael Lockman (Rich/Coll/Swa), Peter Maloni (Swa) and Damian Christensen (Geel). Fellow Blues U/19's and reserve grade player
Russell Brock
also toured with this squad.
He did not manage a senior game for Carlton.
Career Highlights
1982 U/19's 4th Best and Fairest
1980 Season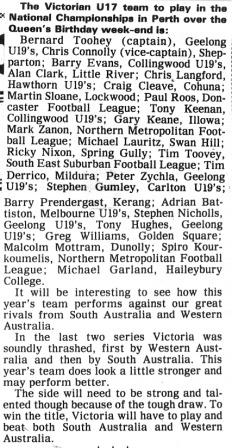 1981 Season