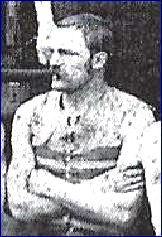 Victorian Football Association
DOB: 1856
DOD: 16 November 1935 Geelong
Games: 1
Career: 1877

Left: Geelong captain Jimmy Wilson is pictured the Pivot's 1882 team in Sydney. (Image: Courtsey of Origins of Australian Football p 177, and The Road to Kardinia p33)
James 'Young Jim' Wilson went on to play around 60 games for Geelong.
1877
September 22
Carlton ventured to Geelong to play the Barwon Football Club in South Geelong.
Five or so players failed to turn up for the match and the Blues scrounged some additional men from the official travelling party. They were still short, so locals
Jim Gardiner
from Geelong played, as well as J. Wilson from the Geelong Imperial club. The Blues ended up with a 19 man side. However, Barwon won the match 1 - 0, and this was Carlton's first loss to a provincial side since they lost to Geelong more than ten years ago, and the club's first loss for the 1877 season.
Jimmy Wilson would later play for Geelong during this the 1877 season. He was such a good player that he became captain of the Pivots in 1878 and went on to become one of it's famous captains.

George F. Bowen aka "Olympus" Melbourne Punch Aug 04 1887
Blueseum:
Pre VFL Players