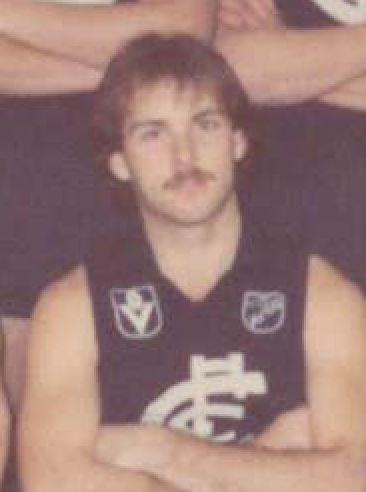 Carlton Reserves Career: 1981 - 1983
Reserve Games: 9
Reserve Goals: 1
Height: 6.0' (183cm)
Weight: 13.4' (85kg)
Guernsey No. 45 (1983), 60 (1982) and 56 (1981).
Guernsey No. 25 (1979 U/19's)
DOB: 28th May, 1963.
Terry Dean was recruited from the Blues local zone Montrose, he came up through the U/19's (1979 to 1981) to later play Reserve Grade Football from 1981 to 1983 for the Blues. Terry Dean played in the 1979 premiership with his older brother
Robert Dean
, they both started the game in defence and were named in the best players for the Blues.
He was member of the U/19's premiership in 1979 which was under the guidance of former Carlton premiership winger
Bryan Quirk
.
In 1981, Dean would win the U/19's Best and Fairest for the Blues, he would back this fine performance up the following year when he was runner-up in 1982 playing off the half-back flank for the Blues.
He did not manage a Senior game for Carlton.
Career Highlights
1979 - U/19's Premiership Player
1981 - U/19's Best & Fairest Winner
1982 - U/19's 2nd Best and Fairest Winner