| | | | | | | | | |
| --- | --- | --- | --- | --- | --- | --- | --- | --- |
| Carlton | 1.1 | 7 | 2.3 | 15 | 4.6 | 30 | 8.8 | 56 |
| Fitzroy | 2.2 | 14 | 2.3 | 15 | 2.4 | 16 | 4.5 | 29 |

Venue: Princes Park
Date: Saturday June 6, 1903
Result: Won by 27 points
Umpire: Carriss
Crowd: 25,000 ground record
Goalkickers: J.Sullivan 4, J.McShane 2, B.Leeds 1, A.Snell 1.
Best: M.Grace, F.Elliott, J.Flynn, C.Roland, G.Bruce, J.Sullivan, E.Walton A.Trim, B.Jacobson, A.Ford
Reports: Nil
Injuries: Nil
---
Game Review
"Up to the time that the whistle of the umpires called the players into action Fitzroy and Carlton were the only teams to have not suffered defeat this year amongst the League clubs. The meeting of these two had been looked forward to with a considerable amount of interest, and people swarmed up to the Carlton ground to see the struggle. Trams, cabs and carts carried immense human freights, and it must have gladdened the hearts of old Carltonians, like Messr. Robertson, Heatley, Harrington, Hearne, Beckley, Melville, and Worrall, to see their ground so splendidly patronised.
The weather was not unfavorable for football. In the midst of all the gaiety on the ground there was a note of sadness, the flag flying at half mast on account of Mr. Beckley's mother. The Fitzroy men wore crepe arm-bands out of respect to the memory of the sister of their captain, Gerald Brosnan. She died yesterday, consequently Brosnan did not play today.
The local club had catered for the comfort of the ladies by erecting a roomy marquee in the rerserve. The attendance was the largest ever seen on the Carlton ground, and there was estimated to be 25,000 persons. People were so anxious to gain admission before the match started that they swarmed through the gates, and the gatekeepers found difficulty in collecting the tickets or the price of admission."
(Trove; Herald June 06 p4)
For the first time in his tenure as coach of the Blues,
Jack Worrall
took an unchanged side into Carlton's Match of the Day against his original club, Fitzroy, at Princes Park. The game drew a capacity crowd, and provided all the spectacle they could have wished, despite the dominance of both defences throughout the first half. Scores were even at the long break, before Carlton broke the shackles to kick six goals to Fitzroy's two – earning an impressive victory by 27 points.
Blues captain
Joe McShane
worked tirelessly all match, and wily forward
Joe Sullivan
notched four goals, as the home side notched up five successive wins for the first time since joining the VFL in 1897. However, this gruelling encounter took place on the Saturday afternoon of the annual King's Birthday long weekend, and there was a full round of matches also scheduled for the holiday Monday. Our next opponent was Melbourne – perhaps the Blues would be vulnerable?
With this fifth straight win, Carlton jumped to the top of the ladder with a percentage of 224.1.
Team
B:
Bob Jacobson
Jim Opie
Albert Trim
HB:
Fred Elliott
Ernie Walton (vc)
Gordon Ross
C:
Charlie Roland
Arthur Ford
George Bruce
HF:
Henry McShane
Mick Grace
Fred Webber
F:
Billy Leeds
George Topping
Joe Sullivan
Ruck:
Joe McShane (c)
Jim Flynn
Archie Snell
Coach:
Jack Worrall
Changes
No Change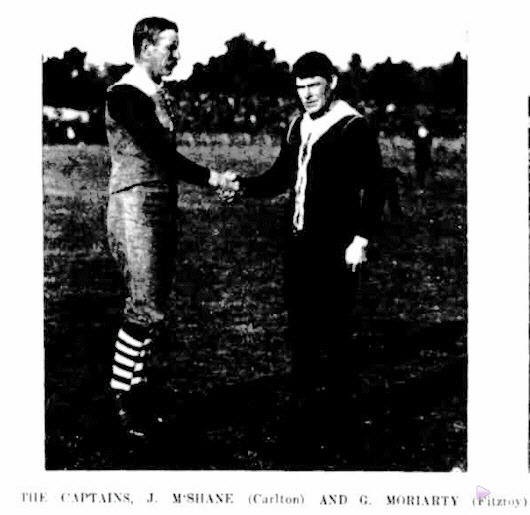 Former Carlton VFA player Geoff Moriarty now Fitzroy captain. Photos: Australasian June 13

Trove: Leader June 13; Note, the boundary flags in images No.1 and No.4. The aging propped up fence which originally enclosed the old Carlton ground at the Southern end of Princes Park. This fence would not be replaced until 1914.
The crowd? Surely more than 25,000
---
Round 5
|
Round 7