| | | | | | | | | |
| --- | --- | --- | --- | --- | --- | --- | --- | --- |
| Carlton | 2.2 | 14 | 7.7 | 49 | 9.10 | 64 | 12.15 | 87 |
| Fitzroy | 2.3 | 15 | 5.3 | 33 | 7.5 | 47 | 9.6 | 60 |

Venue: Princes Park
Date: Saturday July 30, 1966
Result: Win by 27 points
Umpire: Fisher
Crowd: 15,203
Goalkickers: V.Waite 3, B.Quirk 2, A.Gallagher 2, R.McLean 2, S.Silvagni 1, J.Nicholls 1, D.Vandenberg 1.
Reports:
Injuries: J.Goold (cramp) replaced by B.Lane in last quarter
---
Game Review
In their first follow-up victory since round 6, Carlton comfortably accounted for Fitzroy at Princes Park.
Carlton defeated Fitzroy by 27 points at Princes Park. John Nicholls and John "Ragsy" Goold performed well for the Blues, and Paul O'Brien was the Lions best.
- Football Record.
During the second quarter Fitzroy kicking against the wind, got out to a 3 goal lead. The Blues then had a fight on their hands to regain the lead. With the wind at their backs the Blues then turned the deficit into a 16 point lead at the main break. The Roys then had the wind in the third quarter, but they kept kicking the ball to Blues' defender
John Goold
, who turned many attacks by marking the ball about 9 times in this term. He left the ground during the last quarter with cramp. Forwards
Bryan Quirk
and
Serge Silvagni
took full advantage of their opportunities in the last term.
Gerald Burke Supervising the first ever centre square in football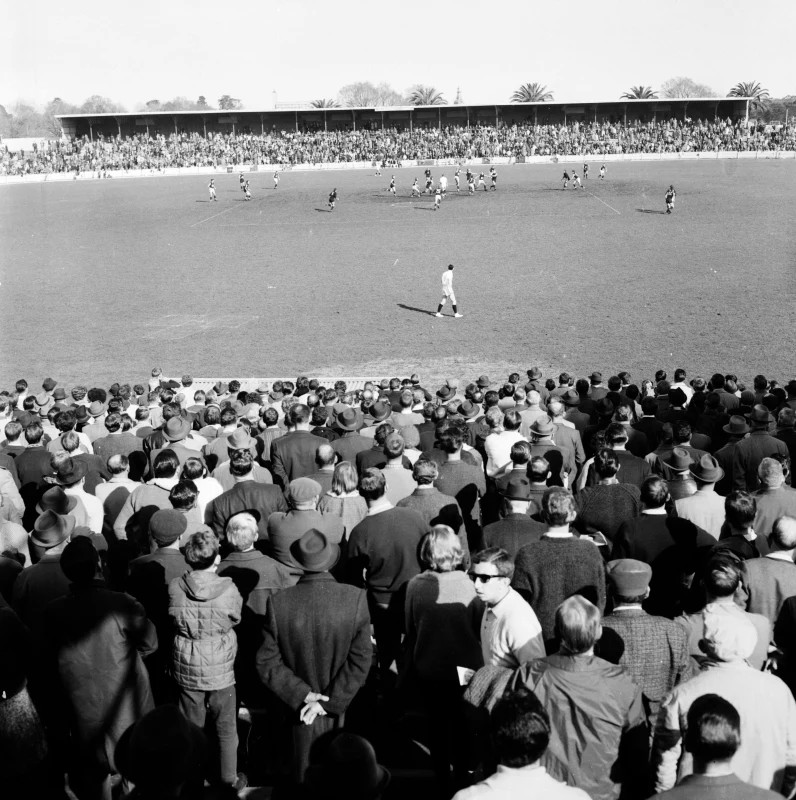 Centre Square Experiment
Age August 01
2018 Article on This Game and the Centre Square
https://www.theage.com.au/sport/afl/rule-trials-aren-t-new-as-footy-loses-sense-of-history-20180710-p4zqj4.html
Team
B:
21 Barry Gill
20 Wes Lofts
44 Ron Stone
HB:
7 John Kemp
11 John Goold
3 Kevin Hall
C:
39 Cliff Stewart
19 Ian Collins
6 Garry Crane
HF:
12 John Gill
1 Serge Silvagni
32 Bryan Quirk
F:
30 Vin Waite
14 Ricky McLean
8 Dick Vandenberg
Ruck:
2 John Nicholls (acting capt.)
36 Peter McLean
10 Adrian Gallagher
Res:
46 Bob Lane
33 Jim Pleydell
Coach:
Ron Barassi
Team Changes
Nil
Milestones
Last Game:
John Kemp
,
Bob Lane
---
Round 13
|
Round 15