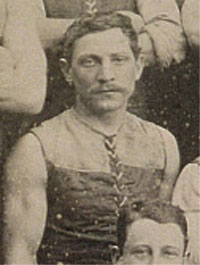 Victorian Football Association
Games: 11
Goals: 3
Career: 1888 - 1889
NOT the Blue drafted in the
2020 National Draft
, John/Jack Carroll was a follower and forward for the Blues over 2 seasons in the VFA.
1888
March 31
Carroll was named in the squad that played Port Melbourne on the M.C.G.
This was a benefit match to raise money for W. Bates, an English cricketer who was injured on tour. A crowd of 15,000 attended.
1888
May 5
Carroll named in 23 man squad for season opener against St.Kilda at St.Kilda.
J. Carroll is pictured in Carlton Football Club team photo taken in Tasmania in 1888.
Queen's Birthday match Carlton v Southern Tasmania (Hobart); Saturday June 23rd.
Carlton lost 6.8 to 7.4
1888
July 07
Carroll is named among Carlton's better players in the drawn match against North Melbourne at North Melbourne.
1888
July 21
Carroll scored Carlton's only goal in the loss to Williamstown at Williamstown.
1888
Carroll mentioned in two games, but named in the squads for 12 other games this year.
1888
CFC Annual Report, J. Carroll scored 1 goal during the season.
1889
Carroll mentioned in 2 games and in squad for another 8 games.
He was a regular up until the Blues played a N.S.W. team at the M.C.G. on Wednesday July 17.
Carroll was named in the 28 man squad for this game, but he does not appear for the remainder of the season.
1889
CFC Annual Report, J. Carroll scored 4 goals during the season.
1890
J. Carroll joined Footscray
A Player named J. Carroll played with Fitzroy 1884 - 87 same person?
There is a good chance that this is the same player. Further information as at September 2022 could lead to the solving of this puzzle.
We have received this new info.
Born 27 Jan 1865 Leighlinbridge Carow Ireland
Mother Judith Manton
Family arrived in Australia 1867 when Jack was 2 years of age.
Carrol played in the first Fitzroy teams.Went to Carlton and then Footscray (1890) which he captained in 1891
Links
Blueseum:
Pre VFL Players