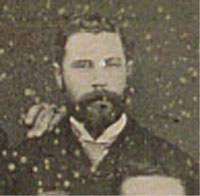 Victorian Football Association
Vice President: 1893, 1894, 1895.
Hon. Sec: 1885, 1886, 1887, 1888, 1889, 1890, 1891.
Committee: 1891.
Hon. Sec. Second Twenty: 1881, 1882, 1883, 1884.
Second Twenty Captain: 1883
DOB: 1862 West Melbourne
DOD:
Career: 1881-1883
Photo from Tasmanian team trip in 1888.
W. C. "Billy" Donaldson;
May have had a brief playing career, but was a hard working, long time servant for the club.
Carlton F. C. club secretary, committeeman and captain of the Second Twenty/Reserves.
See
Pre VFL Administrators
In 1887 Billy had lived in the Carlton area for 20 years. After captaining the Second Twenty he was the hon. secretary of the second twenty for four years.
1881
W. Donaldson as a wing and centre man played exceedingly well.
(The Footballer 1881 p24)
1890
August 01
"Mr. W. C. Donaldson's connection with the Carlton Football Club dates back many years. He was hon.secretary for the Second Twenty for four years and has been seven years hon. secretary for the club. He has been connected with the Victorian Football Association for a number of years, and has taken a leading part in the affairs of that organisation. Mr. Donaldson is a thoroughly conscientious, zealous, and energetic worker, and the Carlton Club committee were fortunate indeed in securing his services, both for club and association duties. He was been the recipient of several handsome testimonials."
(Evening Standard)
1897
At the very first game at Princes Park June 22 1897, Carlton stalwarts of the past including Billy Donaldson,
Jack Donovan
,
John Gardiner
, and
George Robertson
attended.
(The Carlton Story, H.Buggy and H.Bell, p80)
Relation to
G. Donaldson
and
C. Donaldson
?
Links
Blueseum:
Pre VFL Players