Career : 1921 - 1924 and 1926 - 1930
Debut : Round 1, 1921 vs Richmond, aged 21 years, 70 days
Carlton Player No. 360
Games : 141
Goals : 88
Last Game : Semi Final, 1930 vs Geelong, aged 30 years, 206 days
Height : 185 cm (6 ft. 1 in.)
Weight : 85.3 kg (13 stone, 6 lbs.)
Guernsey Nos. 20 (1921 – 1924), 4 (1922) and 32 (1926 – 1930)
DOB: 26 February, 1900
Victorian Representative : 1924, 1926, 1927, 1928
Club Leading Goalkicker: 1924
He was born George Robert Alexander Duncan at Romsey, Victoria in
1900
, but Carlton fans knew him simply as Alex Duncan - a powerful key position player who wrote his name into VFL history in
June 1927
, with a spectacular, match-winning effort against Collingwood at Victoria Park. Later that same year, he went within one vote of winning Carlton's first-ever Brownlow Medal.
Club folklore has it that Duncan was invited to Carlton after the club was contacted by the station-master at Romsey railway station. A keen Blues' supporter and amateur talent scout, he urged Carlton to have a close look at the exciting youngster who was starring for his hometown club in a strong country league. The Blues promptly did so, and the station-masters' judgement proved both timely and accurate.
In the early part of his career at Princes Park, Duncan was a dangerous marking forward, unmistakeable on the field due to his unusual kicking action. As a boy, he had been taught to guide the ball all the way to his boot - giving him a hunched kicking style that invariably sent the ball long, but not always directly to the intended target.
Nevertheless, he was an effective partner in attack for Carlton's champion centre half-forward
Horrie Clover
, and was a member of the Blues'
losing Grand Final team
in his debut season of
1921
. In
1924
, Duncan was the Blues' top goal kicker with 27 majors, and was also selected in the Victorian state team for the first of four occasions.
While enjoying such a rich vein of form, Duncan was an attractive proposition for rival clubs. Before the days of contracts or formal agreements, players at all levels were free agents. So when the cashed-up Gippsland club Stratford made him an offer that included free rental of a house, a job and a hefty weekly pay packet (£8 per week) to captain-coach the Swans in
1925
, Duncan simply couldn't refuse. To Carlton's dismay, he left Princes Park at the age of 25, and went bush.
Sadly for Duncan and the Stratford district - but to the joy of the Blues - the gamble didn't work. After one forgettable season with the Swans, Alex resigned and headed back to Melbourne, where he was greeted with open arms by the Blues' new playing coach,
Ray Brew
. Then, in only his second game back, Brew sent Duncan to centre half-back, and a new star was born. Alex's agility, superb judgement and vice-like hands were ideally suited to the key defensive post, and he was quick enough to play on almost any opponent.
Duncan's finest hour came in
round 9 of 1927
, in a vital match against Collingwood at Victoria Park on a day when Carlton simply had to win to stay in finals contention. Apart from goals and behinds, few statistics were kept at that time, but Duncan's glorious display from the first bounce of the game soon had the press stretching for superlatives. It was generally agreed afterward that he took at least 33 marks for the match, and was singularly responsible for Carlton's upset victory by 12 points. One scribe wrote; 'Never was there such a brilliant individual performance. Nothing could stop Duncan. He did not make one mistake for four quarters.'
Indeed, many Collingwood supporters were among the 30,000 spectators who gave Alex a standing ovation as he left the field that day on the shoulders of his Carlton team-mates. Because it featured one of the great individual VFL/AFL performances, the game has since gone down in history as "Duncan's Match."
Later that same year, Collingwood's Syd Coventry won the games' most prized individual honour; the Brownlow Medal, with a tally of seven votes. During those far-off times, the lone field umpire awarded only one vote per game – to the player he considered had been the fairest and best on the ground. In equal second place with six votes were Alex Duncan of Carlton, and Richard Taylor of Melbourne.
Throughout the four seasons after his comeback, Duncan rarely missed a game. He enhanced his standing as a reliable big match performer each year in the finals, although Carlton never made it through to that one day in September again. He bowed out – aged 30 - after Geelong ended the Blues'
1930
campaign with a 20-point win in the first
Semi Final
, and was farewelled as one of the greatest Carlton players never to have won a Premiership.
However, any thoughts of retirement that Duncan may have had were put on hold when VFA front-runners Coburg convinced him to play on with them. It was a smart move by the Lions, because over the next five seasons, Duncan gave them outstanding value in both defence and attack. Still an imposing opponent in a key position, he averaged a tick under 50 goals per season between 1931 and '35, and was appointed captain-coach in his retirement year.
In 1940, Alex volunteered to serve his country in World War II, and spent four years in uniform in a home defence role with the Royal Australian Engineers. He was discharged in October
1945
, then lived a long and apparently contented life until he passed away at the age of 83 in August,
1984
.
Jack Worrall on Duncan's Game.
"Never in my long experience have I ever seen such a brilliant individual performance as Duncan's, his aerial work being simply perfection. It would be interesting to know how many times he marked the ball. Every effort was meritorious, while many were hair-raising. Nothing could stop him. He sailed over everybody, the certainty with which he held the ball evoking roars of approval, both from friend and foe, and from that large army who follow the best game, the best sports of all. His drop-kicking was on par with his marking, and he only lost the ball on one occasion."
(Trove: "J.W" Australasian July 02, p38)
ALEX DUNCAN
"The footballer in the limelight in Melbourne at present is Alex Duncan, of the Carlton Club. This super half-back against Collingwood gave the best individual display ever seen in Victoria. Con Hickey* reckons it is the finest display ever seen by him, and when one takes into consideration that Con has seen in action like the late Albert Thurgood, Dick Condon (who is in Sydney at present), Peter Burns, Fred McGinnis, and others, it is no small praise. Alex originally came from Romsey, and when he first played for Carlton he was played as a half forward, but being a bit green he often went with Horrie Clover and spoilt him, and when Duncan was shifted to another position he did not do so well. When the next season came around he was the playing coach for a country team, where he remained for a couple of seasons.
On returning to Melbourne, he again joined up with the dark blues, but at once he was played on the half-back line, and it is here that he shines. Alex Duncan does what very few half-back men would do, and that is to leave his opponent and follow the play. Amongst other clubs he has a reputation for the eccentricities, because the opposing teams never know what Duncan is going to do. He is a beautiful mark and a long kick."
(Sydney Football Record July 19 1927) - Courtsey NSW Australian Football History Society
.* Con Hickey Fitzroy footballer, Fitzroy secretary, and VFL/ANFC administrator.
Boyles Football Photos' Tribute to Alex Duncan
An excellent photographic hommage of the Carlton player.
http://www.boylesfootballphotos.net.au/article71-Alex-Duncan-The-Brilliant-Aerialist-Of-Carlton
Milestones
50 Games: Round 8, 1924 Vs Geelong
100 Games: Round 10, 1928 Vs Essendon
http://www.carltonfc.com.au/news/2014-06-26/duncans-match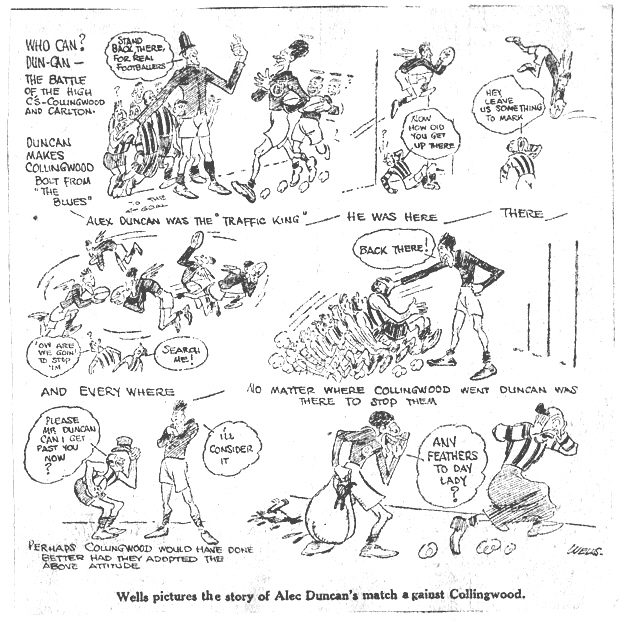 Links
Articles:
Our Greatest Flagless Greats
Blueseum:
Summary of playing statistics for Alex Duncan
|
Duncan's Blueseum Image Gallery