Author: Warren Tapner - Published Fri 07 of Nov, 2008 16:26 AEDT - (3902 Reads)
First published: November 2008

Among the most easily recognised and respected figures in the long history of the Carlton Football Club,
David Parkin
– 'Parko,' was suitably honoured in the year
2000
when he was selected as coach of
Carlton's Team of the Century
. Already an immortal at Hawthorn before he was drawn to Princes Park in
1981
,
he coached the Navy Blues to three VFL/AFL Premierships in a fifteen-year interrupted career
.
Parkin
was an outstanding junior player whose leadership qualities were already apparent when Hawthorn recruited him from Melbourne High School in 1961. In a stellar career at Glenferrie Oval he played 211 senior games, represented Victoria five times, won the Hawks' Best and Fairest in 1965, and captained the club to the 1971 Premiership. He retired as a player two years later, and began his coaching apprenticeship with WA club Subiaco. In 1975, he returned to Hawthorn as assistant coach to John Kennedy, the Hawk legend who had guided him throughout his playing career. Kennedy was a brilliant tactician and a gifted orator, and Parkin was a willing disciple.
In 1976, after Hawthorn won its third VFL Premiership under his guidance, Kennedy stepped down in favour of his assistant. Parkin hit the ground running, and, in just his second year in charge, steered the Hawks to an emphatic Grand Final victory over North Melbourne. That triumph marked the pinnacle of Parkin's career at Hawthorn, because shortly afterward, as his core group of champion players retired or began to succumb to injury, the Hawks fell into decline. By 1980, they had drifted down the ladder to eighth place, and Parko's future at Glenferrie Oval became increasingly tenuous.
In October of that year, his concerns were realised when Hawthorn told him that his services were no longer required - they had appointed ex-St Kilda Premiership coach Allan Jeans in his place.
Parkin
himself had not been idle, however, while conjecture surrounded his future. At the time, Carlton was embroiled in a boardroom civil war between former President
George Harris
, and his challenger Ian Rice. Prior to the news of his sacking becoming public, Parkin had been approached by the Rice faction with an assurance that he would replace Peter 'Percy' Jones as coach of the Blues if Rice won power, and that is precisely what happened. Rice was elected President at Carlton, and
Parkin
inherited a team that that was little changed from that which had won the flag in 1979.
All round, it was a popular decision, and to
Parkin's
credit he quickly melded Carlton's talented playing list into a formidable combination. The Blues sat atop the ladder as flag favourites after the home and away rounds of
1981
, and firmed further with a
clinical 40-point win over Geelong in the Second Semi-Final
.
That
impressive win set up a Premiership-deciding clash against the Blues' fiercest rival, Collingwood - and two weeks later, an enormous crowd of 112,000 packed into the MCG on Grand Final day
. The playing surface was heavy and muddy from recent rain, yet even so, the contest was close and surprisingly skilful for three quarters. Collingwood led by 21 points late in the third term, but two quick goals prior to the last break gave the Blues a lift, and Parkin sensed that the Magpies were tiring.
When a Collingwood official was seen heatedly criticising one of their senior players in the team huddle, Parkin seized the moment. 'Look' he said; 'they're falling apart.' The Blues responded by slamming on four goals to nil in that brilliant last quarter, and 'Parko' joined a select group of coaches who have guided a Premiership team in their first season at a new club.
Twelve months later,
after finishing the '82 season
in third place on the home and away ladder behind Richmond and Hawthorn, the Blues began their quest for back-to-back flags impressively by dominating the Qualifying Final against Hawthorn at Waverley Park, to run out 58-point winners. Seven days later however, minor premiers Richmond handed Carlton a reality check, a four-goal Semi Final defeat, and yet another appointment with Hawthorn in the Preliminary Final. Parkin's detailed knowledge of his former team helped Carlton comfortably account for the Hawks, but after Carlton's third tough, energy-sapping final in succession, Richmond firmed into hot favouritism for the flag.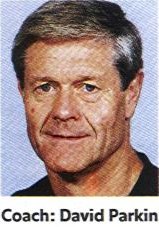 On
Grand Final day 1982
, another mammoth crowd of 107,000 fans packed into the MCG in warm sunshine to see the Blues burst out of the blocks from the first bounce. They matched Richmond for ferocity early, and stamped their authority on the game in the third quarter. The steadiness of Carlton's defence, 'Wow' Jones' ruck dominance, and Wayne Johnston's inspirational play were the deciding factors, as the underdog Blues snatched Premiership number 14 from the demoralised Tigers in one of Carlton's truly great victories. Parko and the Blues had achieved Carlton's third back-to-back Premiership – the first since Norm Clark's team triumphed in 1914-15.
However, while Carlton were strong finalists over the following three seasons, a pattern of stumbles in September emerged. After a disappointing loss in the 1985 Elimination Final to North Melbourne, rumours that Parkin was losing the confidence of his team intensified. It was claimed that he had begun to lecture his players, rather than to encourage and teach them. This subtle difference brought his career to another fork in the road.
In October 1986, Carlton and our close neighbours Fitzroy jointly announced a surprise agreement to swap coaches. Parkin was off to the battling Lions, while the Blues welcomed back our former captain and three-time Premiership star Robert Walls, fresh from five seasons in charge at Brunswick Street. Both men had good first seasons with their new charges. Parkin lifted Fitzroy into the Preliminary Final, where they were beaten by Hawthorn, while Walls' Blues went one step better and reached another Grand Final, only to also be thumped by the white-hot Hawks.
Within twelve months however, Walls and Carlton took sweet revenge -
inflicting an equally emphatic hiding on Hawthorn in the 1987 decider
. Walls' gamble of playing firebrand Rhys-Jones on Hawthorn's gun forward Dermott Brereton was hailed as a coaching coup when 'Reese' won the Norm Smith medal for best on ground, and Carlton added a fifteenth VFL Premiership Cup to our already crowded trophy cabinet.
Sadly, history repeated itself in the succeeding two seasons. Carlton began 1989 with five straight losses – most by big margins. Tensions had already appeared by round 10, when the lowly Brisbane Bears provided the spur for Walls' abrupt sacking with a gut-wrenching, 3-point victory over the Blues at Princes Park. A few days later, the club committee turned to another prodigal son in 'Jezza' –
Alex Jesaulenko
, who agreed to step back into the coach's box as he had done so successfully a decade earlier.
But this time, even one of the greatest of all of Carlton's sons couldn't lift the Blues from mid-table mediocrity. This led Carlton President John Elliott to approach David Parkin (by then two years out of contract at Fitzroy) and sound him out about a return to Princes Park as senior coach in 1991. To Elliott's relief, Parko agreed, but not before stipulating a number of conditions that were quickly agreed to.
Less than a year later, opportunity met preparation for Parko when Carlton controversially recruited Brownlow Medallist Greg Williams from the Sydney Swans. 'Diesel' Williams was a champion, and the ideal player to build a team around. Largely due to his influence, a revitalised Carlton climbed back into flag contention in 1993, only to run into an equally-talented Essendon side that was too good for the Blues on Grand Final day.
But while the Bombers went into a tail-spin after that triumph, Carlton stayed in flag contention. Williams won a second Brownlow Medal in 1994, and twelve months later, Parkin's diligence and Carlton's astute recruiting hit the jackpot. From the mid-point of that fabulous year, the Navy Blues began an unprecedented run of 16 straight victories,
culminating in a 61-point demolition of Geelong in the 1995 Grand Final
.
Parkin was quoted afterwards as saying that this was his most enjoyable season of all. He even admitted that he relaxed for one of the few times in his whole career during the last quarter of that Grand Final, spending most of those thirty minutes marvelling at the skills of his team. 'Diesel' won the Norm Smith Medal as the outstanding player, in one of the greatest football sides ever assembled.
Aside from the '95 Premiership, the highlight of David Parkin's last years at Princes Park was surely the 1999 Preliminary Final triumph against Essendon - a glorious 1-point victory that denied Essendon the chance to equal Carlton's proud record of 16 VFL Premierships. His last match in charge of the Blues came in 2000, when the Bombers gained their revenge by knocking the Blues out of the Preliminary Final.
Since his departure from Princes Park, David Parkin has continued to live his life the way he played his football; with dedication, determination and ambition. During his last year in charge of the Blues, his standing within the game was confirmed when he was named coach of Carlton's Team of the Century. In 2002 he was inducted into the AFL Hall of Fame, and twelve months later given the same honour at Hawthorn. He is one of just six men to have coached over 500 VFL/AFL games.
He has been a lecturer in sports coaching at Deakin University since 1992, and is the author of around a dozen books on coaching, sports psychology, self-improvement and related topics. These days, he is a renowned corporate speaker, and of course - a busy and popular football commentator in print, radio and television.
Links
Blueseum:
Parkin's Blueseum Bio
|
Parkin's Picture Gallery