SEASON 2019

Look ahead to the resurgence....

Playing List - keep an eye on any list changes

Milestones coming up throughout the season

SEASON 2018
Our season summary
Season Fixture!!!
AND OUR CURRENT LEGEND TURNED 300!!!!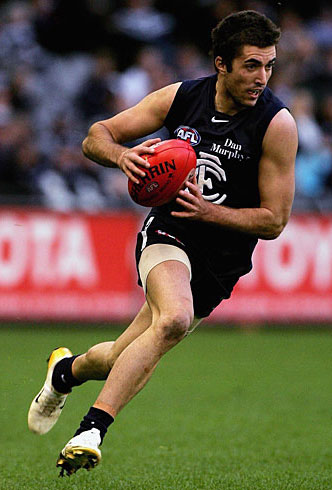 PAST PLAYER OF THE WEEK - 68!
A brilliant, flamboyant, two-time Premiership player for Carlton during the Barassi years in the 'swingin' sixties,' John William Crosbie Goold became almost as famous for his dapper appearance off the field, as for his exploits on it. At the height of his football career, he was also a prominent ladies fashion designer – which led to him being dubbed 'Mr Elegance' by leading football commentator Lou Richards. Supporters and team-mates however, called him 'Rags' or 'Ragsy,' because of his involvement in the clothing, or 'rag' trade.
Goold first came under notice as an outstanding junior athlete at Melbourne Grammar School. A true all-round sportsman, he shone at tennis, athletics, football and cricket. He was also a keen horseman who loved the game of polo and the rough and tumble of fox hunting. While at school he was a fervent Melbourne supporter, but strangely, never had much confidence in his football ability. "If I thought I was good enough, I would certainly have gone to Melbourne," he said many years later. "But I honestly didn't think I would ever amount to anything in this game. Cricket and tennis were the games that really interested me.' However, after graduating from MGS, Goold went home to Healesville to star in the Bloods' 1962 Yarra Valley Football Association Premiership team – an achievement that brought tempting offers from more than one VFL club.
50 YEARS SINCE THE 1968 DROUGHT BREAKER FLAG!!!!
To read Ragsy's story,
click HERE
.
Past Player of the Week Archive
Meet the new players on Carlton's list
FROM THE ARCHIVES
Within the Blueseum you will find thousands of pictures and video clips of the players, the people, the games and the grounds that have made the Old Dark Navy Blues of Carlton one of Australia's greatest sporting clubs.
There are lots of historically significant shots as well, like this wonderful 2001 image of a young
Jack Silvagni
at training with his dad, Carlton's Full-Back of the Century,
Stephen Silvagni
.
Are YOU a keen Bluebagger?
Have you ever had the urge to be a football writer or researcher ?
Well, here's your chance to have a crack at it!
The Blueseum is looking for some additional help in 2017 – particularly with the Women's competition.
Since 2006, this website has been produced by a dedicated group of volunteers who spend their free time delving into and recording the history of the Carlton Football Club. The site is based on the wiki concept (think of wikipedia) where registered users are able to create and edit content independently.
Therefore, everyone interested is cordially invited to join us. No experience is necessary, because you'll be guided every step of the way and you will be making a real contribution to your club.
So come on, why wait ?
Contact us and register by
clicking here
.