SEASON 2018
All your 2018 info is available here

Playing List - check out all the latest player stats

Milestones coming up throughout the season

PLUS - relive all of the 2017 highlights.....

2017 JNM Winner - Marc Murphy!!!


PAST PLAYER OF THE WEEK
Born in Canberra and raised in Western Australia, Dennis Armfield grew up playing Rugby Union. By his late teens however, he had switched codes to Australian Rules and it wasn't long before the pacy, fair-haired youngster was a star for junior clubs Eastern Hills and Kalamunda. In 2002 he was recruited by WAFL heavyweights
Swan Districts
and, over the following five seasons, progressed through the ranks to be the Swans' 2006 Rookie of the Year, as well as Best on Ground in the WAFL Reserves Grand Final.
In 2007, Dennis was promoted to the Swans' seniors. He played all 20 matches for the year, before being drafted by the Carlton Football Club at selection 46 in the
2007 AFL National Draft
. It was a pivotal moment in time for the Navy Blues, in so far as Armfield's arrival at Princes Park coincided with the recruitment of West Coast champion
Chris Judd
and launched the rebirth of the Blues after five of the worst seasons in the clubs' history.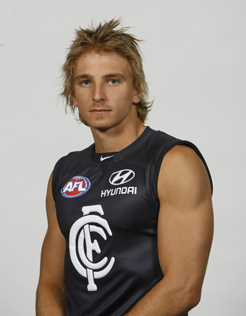 To read Dennis' story,
click here
.
Past Player of the Week Archive
Meet the new players on Carlton's list
FROM THE ARCHIVES
Within the Blueseum you will find thousands of pictures and video clips of the players, the people, the games and the grounds that have made the Old Dark Navy Blues of Carlton one of Australia's greatest sporting clubs.
There are lots of historically significant shots as well, like this wonderful 2001 image of a young
Jack Silvagni
at training with his dad, Carlton's Full-Back of the Century,
Stephen Silvagni
.
Are YOU a keen Bluebagger?
Have you ever had the urge to be a football writer or researcher ?
Well, here's your chance to have a crack at it!
The Blueseum is looking for some additional help in 2017 – particularly with the Women's competition.
Since 2006, this website has been produced by a dedicated group of volunteers who spend their free time delving into and recording the history of the Carlton Football Club. The site is based on the wiki concept (think of wikipedia) where registered users are able to create and edit content independently.
Therefore, everyone interested is cordially invited to join us. No experience is necessary, because you'll be guided every step of the way and you will be making a real contribution to your club.
So come on, why wait ?
Contact us and register by
clicking here
.